With St. Patrick's Day coming up this weekend, many parents are racking their
brains for fun and creative ways for their children to celebrate the holiday
through food. When we think of St. Patty's Day, we may picture leprechauns,
shamrocks, rainbows and of course, gold! Here are some quick and easy ideas
to incorporate all of those things into your meals for the day: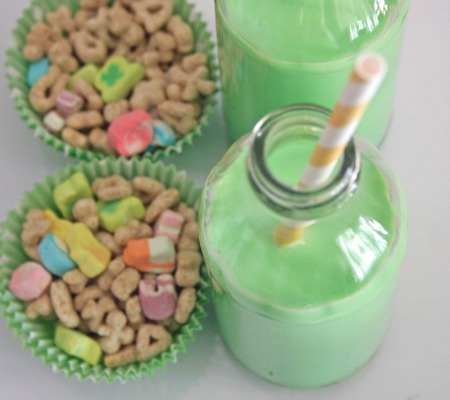 For breakfast, serve your family lucky charms with and a glass of "leprechaun
milk" (just a glass of milk with green food coloring. So simple but so cute!)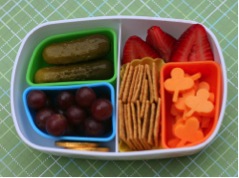 Go over the rainbow for lunch with this colorful meal. Serve baby pickles,
purple grapes, wheat thins (or your children's favorite cracker) with cheese
cut into shamrocks and strawberry slices. Finish it off with a few gold coins!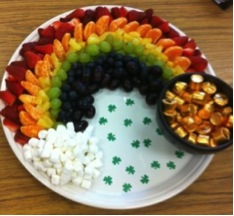 My favorite St. Patty's snack is a fruit rainbow! I use strawberries, oranges,
pineapple, grapes and blueberries but you can substitute your favorite fruit
and arrange them in rainbow order. A fun, and delicious, way to finish this snack
off is by adding mini marshmallows to one side for clouds and Rolos to the other
for the pot of gold.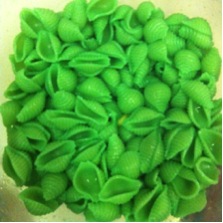 For dinner, you could go traditional St. Patrick's Day and make Corned Beef
and Cabbage but if your children are as picky as some of the ones I know, that
isn't going to fly. Try making green noodles simply by adding green food
coloring to the water before adding the noodles. Serve with chicken or beef
cooked how your family likes it.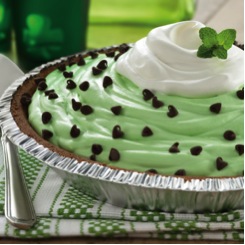 And finally, the dessert! I love to make this super easy "Lucky You" Mint Pie from
Carnation Milk. It's the perfect way to end any day and you can find the recipe by
following this link:
http://www.verybestbaking.com/recipes/144420/Lucky-You-Mint-Pie/detail.aspx?cmp=EM_VBB_2011-03_010
I hope your family has a wonderful St. Patrick's Day and enjoys these recipes!
Author: Katy Parrish